Christian Capurro | Bootleg: Retakes on art: new film and photography
12 July – 10 August 2013
»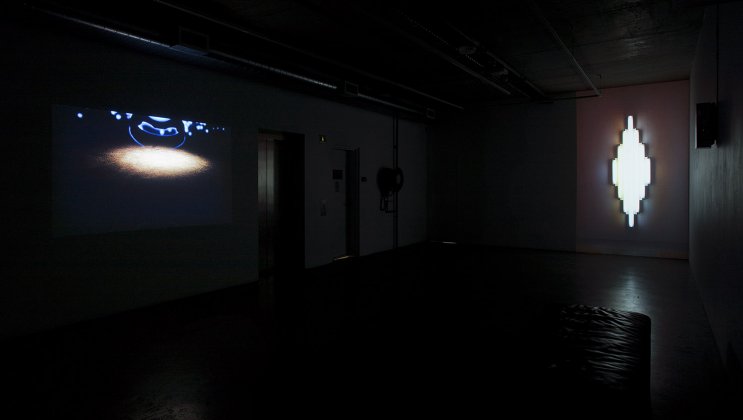 Christian Capurro [left] Amateur prop — Vienna5, 2013, phone camera digital video, [right] Amateur prop — Lisbon 3, 2012, phone camera digital video, installation view
"And all you were doing was stealing chickens, nailing things to the wall. Everytime you stopped playing you became a lie."  Michael Ondaatje, Coming Through Slaughter
 
Breenspace is delighted to announce our first solo exhibition with Christian Capurro. His new body of work explores what he describes as 'retakes on art' and comprises new moving images developed during residencies in Lisbon and Vienna, plus a related suite of photographs.
 
The exhibition marks a dynamic shift for Capurro, expanding on his negotiation of contemporary image culture, its appeals and its deceits, and what it means to be living in its 'wake'.
 
In this new work the digital videos are made exclusively with a phone-camera, often as extended single-takes and always handheld. They, along with the photographs, present surprising, at times highly charged meetings and spaces between works of art and their visitor/recorder. In these encounters, technology, the body, the unity and stability of the representation itself in reproduction, are put under pressure and their limits tested.
 
This exhibition presents an intriguing variation on the bootleg genre in its 'retake' of local and internationally known works of art: part homage; part theft; part fan/part foe appropriation; part critique; part re-mastering.
 
"In recent times, scattered thoughts, orphan actions and variously-formed things have coalesced around what I call 'amateur props'. Within this, I've come to identify the filming/viewing subject as one such 'prop' — one that is marked by its orientations and solicitations, its attentiveness and drifts; how it poses itself, takes a stance, holds that position and then, sometimes, collapses. 'Bootleg' presents that strain of the 'amateur prop' film and image making which plays with, even tries to recast, some of the conventions, apparatuses and 'composures' that operate in the domains of reproduction — especially how they apply to and are used in serving (up) the work of art."
Christian Capurro
 
Biography: Christian Capurro works with a diverse range of media, tools and processes. He was curated into the 52nd Venice Biennale (2007) and also recently into: InVisible: Art at the Edge of Perception, Mass MoCA (2010); Mirror Mirror: Then and Now, IMA/Tin Sheds/Samstag Museum of Art (2009/10); Erased: Contemporary Australian Drawing, AGNSW/Asialink touring exhibition (2009/11); Negotiating this world: Contemporary Australian Art, NGV (2012); and NEW07, ACCA (2007). Recent solo exhibitions include: a vacant bazaar (provisional legend), Artspace, Sydney (2010), IS, Sammlung Lenikus, Vienna (2013), and Mouthpiece, Milani Gallery, Brisbane (2011). His work is held privately, both locally and overseas, and in the collections of the National Gallery of Australia, Art Gallery of New South Wales/ Kaldor Family Collection, National Gallery of Victoria, Monash University Museum of Art and the Queensland University of Technology. The moving image work was initiated while International Artist-in-Residence at Escola Maumaus, Lisbon in 2012 undertaking a Samstag Scholarship and developed in Vienna over the 2012/13 European winter on a Sammlung Lenikus residency.