On Collaboration | Hossein & Angela Valamanesh, Raafat Ishak & Tom Nicholson
30 November – 22 December 2012
»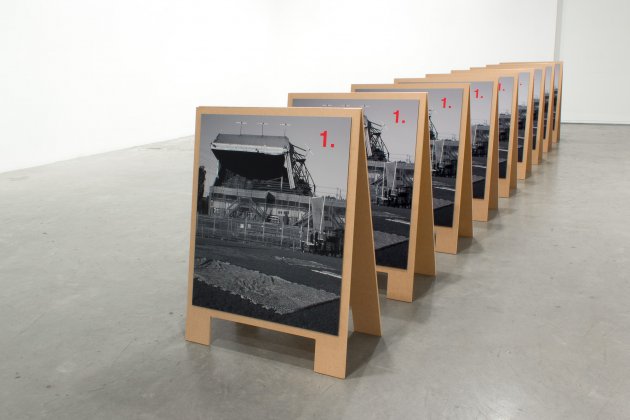 Raafat Ishak & Tom Nicholson, Proposition for a banner march and a black hot air balloon (A frames), 2012, 5 of 10 pairs, each consisting of 2 Type C photographs mounted on dibond and MDF, hinges, 82 x 60 x 40 cm
BREENSPACE is pleased to announce our December exhibition, On collaboration, featuring works by collaborating artists, Angela & Hossein Valamanesh, and Raafat Ishak & Tom Nicholson. This exhibition presents a theoretically challenging exploration of four artists whose work poses questions about authorship and the widely accepted belief in art as self-expression, in an age that champions the cult of personality. These artists purposely undermine long-held assumptions about art as a record of personal expression and subjectivity, instead celebrating the possibilities and challenges of producing work as a collective.

Angela & Hossein Valamanesh have, for thirty years admired the trails left by the nocturnal wandering of snails on their garden path, often wondering how they might record these accidental but poetic 'drawings'. Working with their son, Nassiem, they have produced a suite of drawings and a video work that shows the undulating 'foot' of the snail as it slithers across the screen. From this unexpected perspective, the unpredictable journeys of the animals is both playful and irreverent. Freed from representation What remains... (2012) shows the snails against a deep space-like black, meditating on forms and tendencies within nature. Hossein Valamanesh states that, 'this work has evolved with an awareness of how much we share in life.'

Raafat Ishak & Tom Nicholson will present a series of works that have been developed from the performance and installation, Proposition for a banner march and a black cube hot air balloon (2003–12), a multifaceted conceptual work that they have been developing for almost a decade. This project is essentially about an idea: to stage a public banner march that follows the course of a black cube hot air balloon. Nicholson has been undertaking banner marches since 2003, a practice tied to protest, mapping and spatial investigation, while Ishak has an ongoing interest in the black cube, a motif linking early Modernism with the Kaaba in Mecca. The potential for community involvement in the performance according to Ishak, 'blurs the distinction between those involved in the production of the work and its audience. Everyone becomes part of the work.'

These collaborations explore important ideas surrounding collective identity, and the impetus to work towards what might at first seem ideas of great folly, but in fact can be read as liberating and transformative modes of thought. In tracking snails and the potential paths of square balloons we might see the concrete structures of representation flex a little.



Artist Biographies:
Angela Valamanesh was born Port Pirrie, South Austalia, 1953, lives and works in Adelaide. Since graduating from the South Australian School of Art in 1977. Her practice has broadened from its focus on ceramics to include a number of collaborative public and studio works with Hossein Valamanesh. Angela has exhibited her work widely within Australia and internationally. Her recent works comprise of simple forms that make links between plant, human and animal. Having recently completed a PhD at University of South Australia, she was the subject of the 2008 South Australian Living Artist monograph.

Hossein Valamanesh was born Iran, 1949, and immigrated to Australia in 1973. He lives and works in Adelaide. Hossein employs installation, sculpture, drawing and photography and has been exhibiting internationally for over 40 years. He has completed a number of major public art commissions including An Gorta Mor, memorial to the Great Irish Famine, 1999, Hyde Park Barracks, Sydney and 14 Pieces on North Terrace, in Adelaide both with Angela Valamanesh. A major survey of his work was held at the Art Gallery of South Australia in mid 2001 and a survey of his more recent work was held at the Museum of Contemporary Art, Sydney in 2002. In collaboration with Brink Productions he completed the stage design for When the Rain Stops Falling that was first performed in the 2008 Adelaide Festival of Arts. Wakefield Press recently published a monograph of his work, Hossein Valamanesh, Out of nothingness.

Raafat Ishak recently exhibited at Art Dubai in 2012 and was included in the group show The Future of a Promise at the 2011 Venice Biennale. A retrospective exhibition of the last 20 years of his practice was held at Melbourne University's Ian Potter Museum of Art in 2010. Ishak is represented by Sutton Gallery, Melbourne.

Tom Nicholson has recently exhibited work as part of Parallel Collisions the 2012 Adelaide Biennial of Australian Art, and been included in major exhibitions such as the 8th Shanghai Biennale (2010), the 4th Auckland Triennial (2010), Animism at Extra City and MUHKA in Antwerp (2010), and the Sydney Biennale (2006). He is currently working on a project titled Comparative monument (Palestine), in the inaugural Qalandiya International, Gestures in Time, across a variety of venues in Palestine, Jerusalem. Nicholson is represented by Milani Gallery, Brisbane.